The Secret to 25 Successful Years in the South African Recruitment Industry
In conversation with Ross Paton, Managing Director of Paton Personnel, we reflected on 25 years in the recruitment industry:
What stands out as the most significant change in the recruitment industry from when you started the business, until now?
We entered the recruitment industry in 1996 because of what we perceived as a 'gap' in the effective provision of talent to clients in Financial Services. The recruitment industry was dominated by agencies and recruiters with generalist skills, lacking knowledge of the deeper technical skills and requirements of so many roles in Financial Services.
This drawback hampered optimal recruitment as in many cases a 'hit or miss' approach was used in agencies rather than a deeper analysis of candidate skills and employer needs. Paton's more technical approach was well received by candidates as they benefitted from better career advice and by clients as they spent less time worrying about candidate 'fit'.
We furthermore created a business environment without asking how our competitors operated. An open, individually empowering, quite demanding, 'be your best' environment with lots of operating freedom. The result was smart, fast-growing staff who wanted large degrees of responsibility and accountability.
What impact has Paton made in the recruitment industry over the last 25 years in terms of employment and positively impacting the South African economy?  How have you empowered other people through your recruitment process?
Firstly, we impacted the recruitment industry and our sector specifically. Clients recurrently demanded that they liaise with strong professionals with technical knowledge of the areas they served. This profile of recruiter was exactly what we developed. Our recruiters received training on (and were tested on) their knowledge of our target sectors. Our infamous 'Investment Banking Test' was a source of great consternation (and some humour) with staff. 75% is the minimum pass mark to avoid a rewrite!
To add to our recruiters' efficiencies and to enable them to spend more time with candidates and clients, we created a new role, called 'Resourcing Specialist' – consisting of graduates in their respective fields. This two-tier structure is obviously more costly but has made an enormous impact on recruiter success.
We take great satisfaction from seeing how ex-Patonites have continued to grow vastly beyond their Paton careers. We train, actively develop and push staff to be their best. As a result, our staff do become attractive to our Clients and when leaving Paton, our recruiters usually move to SA's top employers in Financial Services and broader industries.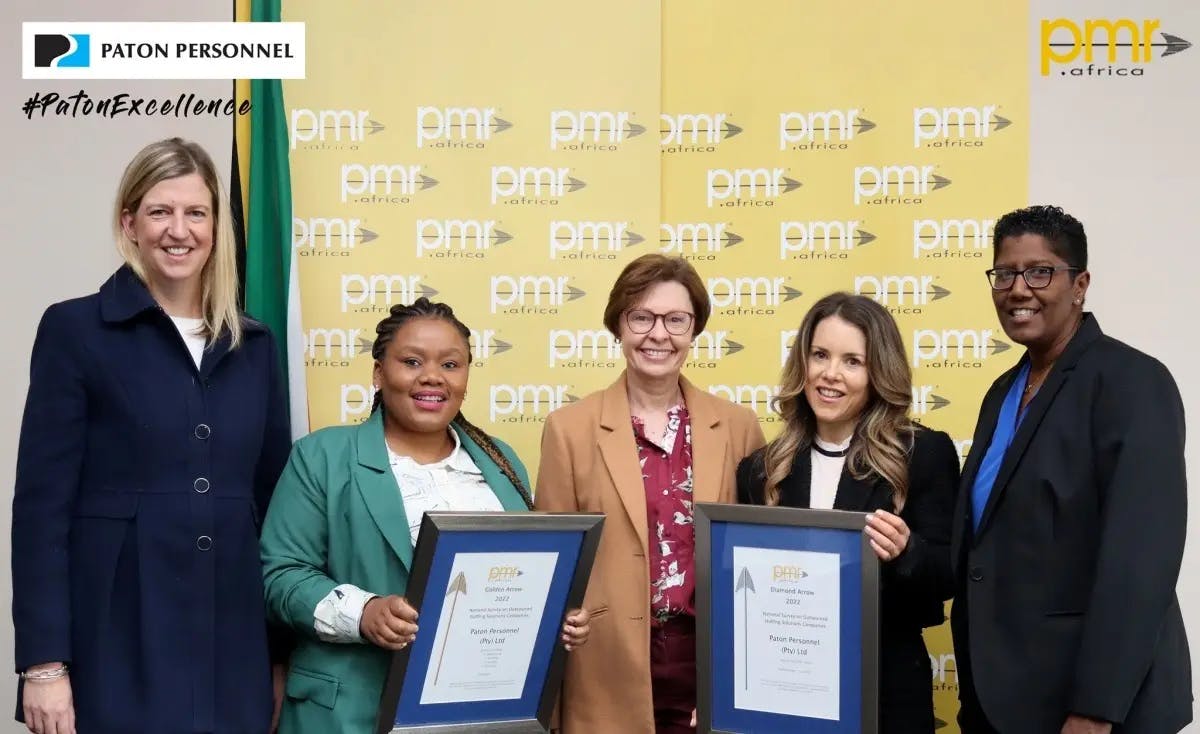 Have you as an expert in the recruitment industry, seen a major change in terms of how people approach their careers (i.e., spending long periods of time in one job at one corporate vs changing jobs every 2-3 years)?
We have all read the literature about talent in their 20s becoming more mobile and less easily satisfied with their current role and we too see evidence of this trend. It also seems that younger candidates 'put up with less'. Previous generations would perhaps 'endure' more negatives in a job, trusting or hoping that their constancy would overcome the issues and always retaining some degree of fear of the unknown in terms of whether they were re-employable.
Young employees today are not as fearful. They are aware of the eventual stain that a CV can be tainted with if they change jobs too many times, but may confidently move roles 3-4 times in their 20s. They also readily see flexi work as an alternative in the event that employers express no interest in them for a permanent role. Older candidates are more constrained by existing financial commitments such as mortgage bonds.
Have you seen a major change in terms of what Clients require regarding sought-after professionals? (i.e. in your opinion, are CAs still the most in-demand professionals, or has another degree/ skillset taken over from this?)
I remain a huge believer in the SAICA CA qualification (despite heated debates with my children!). Financial Services is exactly what it says, i.e.: Financial. A strong background in finance, accounting (and possibly tax) will always be most welcome in our industry and remains a strong differentiator from other talent; and for those considering offshore roles, South African CAs have a great reputation globally.
Having said that, there has been a significant movement by employers to acceptance of degrees such as B.Bus.Sci as acceptable for roles in areas such as Corporate Finance etc. In the 90s and 'noughties' this was not the norm.
I frequently read that EQ rather than IQ skills will become more relevant and dominant, but I have yet to see sufficient evidence of this in technically demanding areas of employment. The ability to thrive in change is vital, as is the ability to adapt to revised roles with new skills.  Underlying this though, remains the importance of intellectual horsepower. Add EQ to that equation and you have a real champion!
Ross leaves us with some closing thoughts on the employer/ agency relationship
Recruitment today reflects our prediction of the importance of deep technical inputs from both agency and employer. Employers make use of many tools that assist in identifying their own talent, but there will always be a role for a specialist agency such as Paton Personnel, as we are a leader in the recruitment industry and remain highly effective at sourcing hard-to-find and top EE talent for our Clients' complex businesses and always within tight time constraints.
Tying in with our forward-thinking mindset and mindfulness of possible industry changes in the future, we established Nomad Now three years ago.  This business suits hirers who wish to drastically cut recruitment costs through our self-help platform for both permanent and flexi talent.
A quality employee has the potential to determine a customer's perceived value of a brand or business – and a consequent future relationship with that business. Regardless of how extraordinary the digital landscape or automation is, human interactions still ground businesses. Employers can trust Paton Personnel – as they have for the last 25 years – to recruit candidates of exceptional worth and relevance who would add value to your business.


If you are searching for your dream role, visit Paton Personnel today.